HandyGames known for their popular titles Townsmen and the more recent Rocket Island have come out with their next, a turn based strategy game called 1941 Frozen Front. The game has been inspired by the events of World War II and takes players back to the icy cold Eastern Front where the big action took place between the Soviets and the Germans.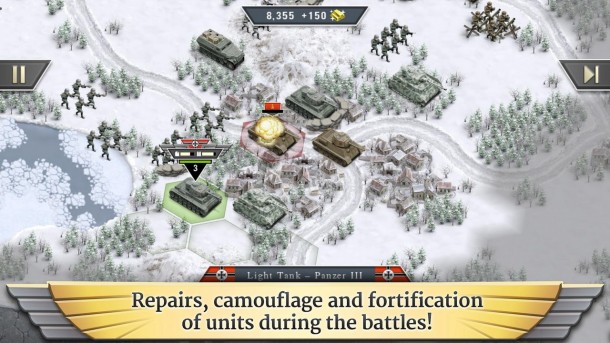 In 1941 Frozen Front, players choose to play as the bold German forces or the clever Soviets. All the action happens on a hexagonal board, and players will take turns to deploy army units and attack enemy factions. The game offers plenty of challenging missions and campaigns, infantry troops as well as artillery, tanks and warplanes to take on the opposition.
Here's a look at some of the key features of 1941 Frozen front.
Key Features: Frozen Front
Turn-based strategy game set in WW2
Thrilling campaigns and challenging missions
Hot-Hand multiplayer battles
Historical German und Soviet units
Repairs, camouflage and fortification of units during the battles
Infantry, artillery, tanks and warplanes for both fractions
Hex grid for the best overview possible
Detailed graphics und super-realistic sounds
Full tablet support
The game is available for free in the Play Store, but is so apparently ad-centric that you may have to consider unlocking the game by paying a little over $2 or downloading some of the featured games within the app. If you are keen to try the game, you can download it here.