Tired of playing as the "slow" and relatively boring Indiana Jones knockoff in Imangi's Temple Run 2? You've always been able to purchase different characters but now you can play Temple Run 2's first guest star character, Usian Bolt. Yes, the current world recorder holder for the 100 and 200 meter dash and the man lauded as being the "fastest man alive" has made his debut on a popular app.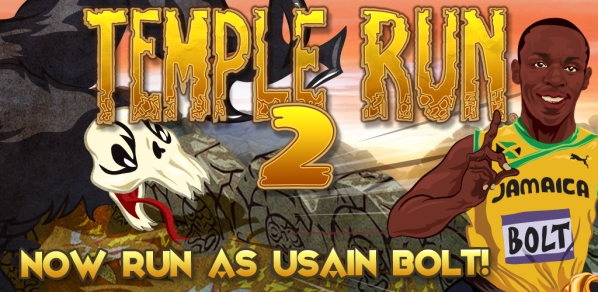 Now Usian Bolt isn't free but rather will cost you $0.99 which may sound a lot for a single character that is basically just a reskin but I'll let you be the judge of what you do with your money. I will say that Usian Bolt in Temple Run 2 does come with his own unique powerup which may sway your opinion.
While we're on the topic of Usian Bolt. It may sound weird that he is getting into the mobile app game advertising business but supposedly Temple Run 2 is not the end. A whole endless runner themed around Usian Bolt is being rumored so you may get to play the fastest man alive in more than just Temple Run 2. But for now if you want to feel like you're an Olympic gold medalist then download Temple Run 2 for free and then purchase Usian Bolt, he is only there for a limited time.