Space travel is all the rage now. Just ask any twerking celebrity about it, and they'll tell you that they are taking that next rocket to the the outer world. If you are one such space travelling wannabe, you must first prepare for all eventualities. Such as a spacecraft crash, one lonely buddy who survives the crash with you, a depleting oxygen source, and one air cable to connect you both to that last oxygen supply. While the real prospect of it might be quite spine tingling, this Norwegian indie game developer (RockPocket Games) thinks it might be quite hilarious. So hilarious that they have turned that concept into a physics based sci-fi adventure called Shiftlings.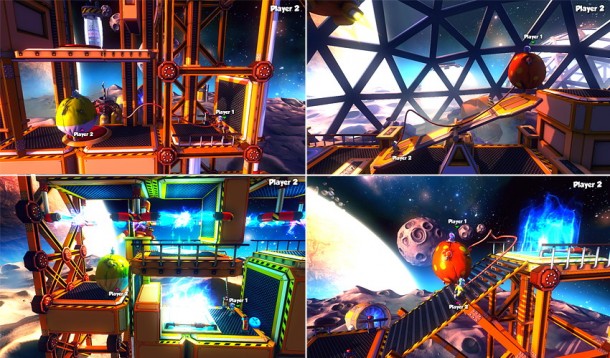 In Shiftlings you control two bungling space janitors as they traverse the alien landscape in search of parts necessary to fix their broken space ship. The trouble is there's just one air supply cable and you must transfer the right amount of air between the two blokes to ensure that they can move along and get the job done. The hilarity ensues when you unavoidably end up pumping more air into one of the fellows, causing his space suit to blow up to unimaginable proportions making his journey all wibbly wobbly. The bloated fellow is now not just bigger and bouncier, he can also do plenty of things such as move big obstacles and drag around the little guy as he makes his moves.
Shiftlings can also be played in co-op mode and that probably means it's going to be twice as hilarious as you work out the air shifting mechanics with your friends. Can't wait to try out the game? We don't have an official release date yet, but we can say for sure that it will be hitting both Android and Ouya in the near future. Enjoy these screenshots and teaser until then.