Something's not right in the warm, crystalline waters of Bermuda… Armies of angry turtles have been sighted just off-shore wearing nothing but a half-shell and a heavy payload of missiles. What's going to happen next? It's not mating season, I can tell you that.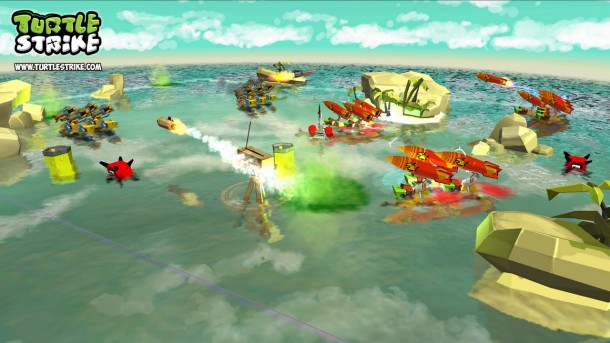 Turtle Strike, an inventive new spin on multiplayer turn-based strategy games, is coming to an Android near you and sports some tried-and-tested – as well as some unique – twists on the genre. Turtle strike appears to be a game of all-out amphibian war, and will take place entirely online against live opponents. Plan on destroying your opponents with weapons like EMP bombs, napalm, nitroglycerin torpedoes, missiles, or the ever-so-terrifying 'RoboTurtle'. There will be the usual achievements as well as social integration, but the folks at eeGon hope to wow you with a new concept lovingly dubbed 'Live Turn-Based Multiplayer'.
From their website, "We give both players time to make their move separately, then their moves are resolve at the same moment. It's an almost perfect merger of real-time and turn-based advantages – you still have time to evaluate your move and be more tactical than in real time, but on the other hand, matches are quick and feel like a real battle, not a chess game."
Turn-Based multiplayer and pissed-off turtles… Sounds like a winning-combo to be sure! Did I mention the game is free-to-play? That's right, no purchasing in-game stuff for real-world money. Let's hope they stick to that promise. If you're interested, paddle your way to their website (www.turtlestrike.com) and keep an eye out for the beta.
Website Referenced: TurtleStrike