Supercell, the guys who brought you the popular tower defense game Clash of Clans are back with another colorful game, this time a farming SIM called Hay Day. If you still haven't been delighting yourself in the marvelous Farming Simulator 14 (from Giants Software) this one will surely capture your attention. Its chock full of fields waiting to be harvested; pigs, cows, chicken and sheep to be reared; sugar mills and looms to be built; and profits to be earned.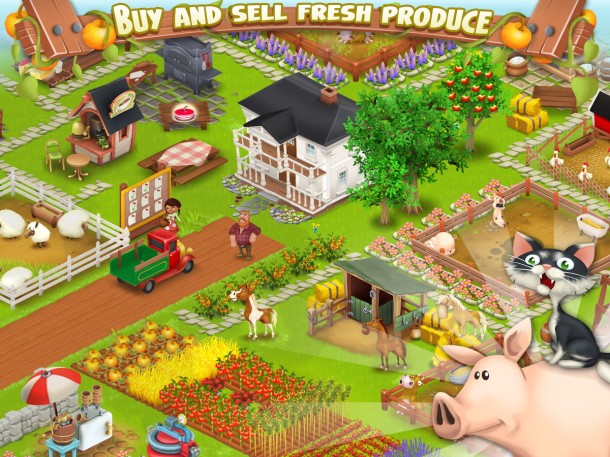 The game's simple gesture controls make farming on this game a breeze. Just a swipe of your fingers will have you harvesting your crops, collecting your animal produce and completing other farming tasks. The life of a farm hand couldn't be blissfully more easy, but the crunch comes when tasks happen in real time. You may have to wait for ten minutes for the wheat to grow or twenty for the cows to be milked. Quickening the tasks will mean losing your in game currency diamonds, but luckily you can earn them in-game too.
You can also engage in some socializing while tending to your tasks. Your Facebook friends might pop in for a visit, buy some of your produce and even assign fun tasks. While Hay Day may not bring about a revolution in the field of farming SIMs, its eye candy graphics, lively music, and free price may induce any bored gamer to indulge in the sweet sweet life for a while.
Here are some of the delightful things you can do in Hay Day.
• Produce delicious food using natural ingredients from your very own farm
• Buy and sell your healthy, farm-fresh produce at the roadside shop
• Play and trade with your friends on Google+ and Facebook
• Easy, fun touch gestures that mimic real farming activities
• Raise and care for funny farm animals with quirky personalities!
• Build processing facilities like a sugar mill or a loom
• Work the land and improve your farm with different tools
If you've got some free time to spare this weekend, or if you're not Black Friday shopping, you've got nothing to lose playing Hay Day.