Kindle Fire HDX owners, who are also fans of the undead can continue the New Year celebrations with a download of the complete first season of the award-winning point and click adventure from Telltale Games, The Walking Dead.
Telltale Games have certainly taken their time bringing their popular games to Android and this latest news is an indication of just how slowly their games are trickling onto Android devices. While there is still no sight of the game on the Play Store, even Kindle Fire owners may be disappointed as the game is currently available only on the latest Kindle Fire HDX devices.
In the Walking Dead, you play a convicted criminal Lee Everett who is given a second chance in life where he must protect an orphaned girl Clementine in a world devastated by the undead. Typical of most of this developers' games, you go on an episodic adventure meeting different people and making all kinds of decisions that will determine the outcome of the game.
The Walking Dead is available as a free download but that will only let you play the first episode for free. You can buy the rest of the four episodes as well as the extra episode 400 Days for $5 each, or if you prefer buy all of them with a seasonal pass for $14.99.
One review on the Amazon App Store indicated that the game was available to play on Ouya after the user side-loaded the Amazon Appstore APK on the hardware. However, we are yet to see any official announcements in this regard.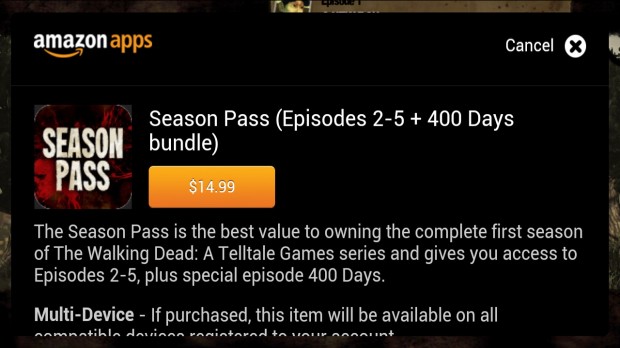 With The Walking Dead: Season Two recently launched on the iOS platform, one hopes that we will soon start seeing the games on the Play Store and on all Android devices.