Endless running games are a pretty mindless genre where you never achieve the satisfaction of having won or achieved anything significant since you're constantly playing the same scenario over and over again until you're fed up. However, there are a few cases where the game breaks away from its monotony to offer something extraordinarily fun, something that entices you to give the genre another go.
I am not entirely sure if Run Sheldon falls into the latter category, but its gorgeously cute graphics, wide variety of powerups, long list of challenges and inspiration from one of the world's most loved fables (The Tortoise and the Hare) certainly makes it a strong contender.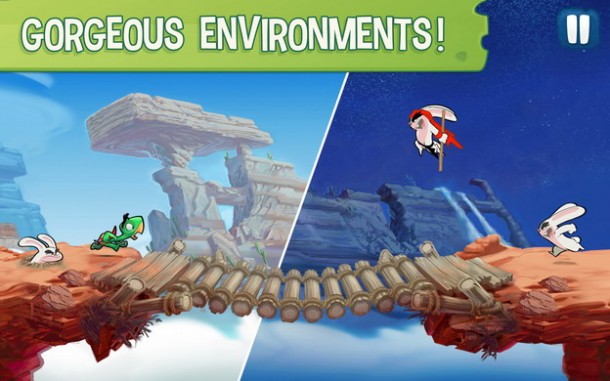 The Golden Racing Trophy may have been won by the slow moving tortoise Sheldon in the famous fable, but the sore loser is not going to simply sit there and do nothing about it. The old hare along with his other harebrained pals want the trophy back and they will stop at nothing to get it. And so begins Sheldon's fight to defeat the nasty hares and race to victory.
Along the way, Sheldon can make use of powerups like Bouncing Bubbles and Super Wings to help him run, fly, bounce and swim his way to the finish line. Special items such as Coin Magnets and Money Doubler will come in handy for an extra boost while coins picked up along the way will come in handy to upgrade powerups, buy cool outfits, and pick up extra lives.
Run Sheldon throws in more than ten different types of enemies in beautiful cartoon style grasslands, forests and desert hills. If that doesn't entice you to download the game, how about completing the amazing 400 plus challenges that come your way and rising to the top of the leaderboards on Google Play Services and Facebook?
Run Sheldon is available on the Play Store for the happy price of free! Go Tortoise!