Movie tie-in games have never been the most popular ones on the Play Store. While its simply impossible to replicate the movies and the magic of the movies onto mobile games, developers haven't stopped trying. The latest movie to get into the tie-in mode is Teenage Mutant Ninja Turtles, which will be landing in theatres on August 8th.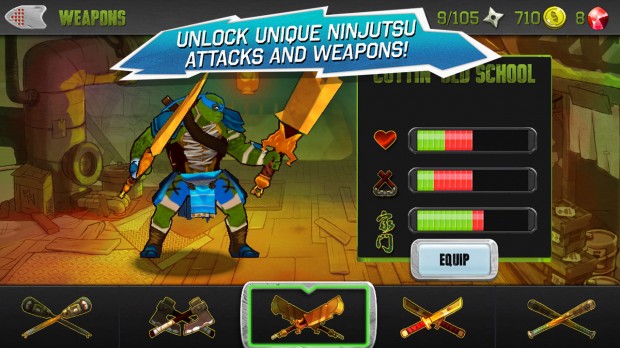 Anyone who has played the previous TMNT game, the endless runner, will know that it was a poor attempt at showcasing our most beloved mutant heroes. But thankfully Nickelodeon has appeared to have done a pretty good job with this one.
Teenage Mutant Ninja Turtles is not an endless runner … yay for that! It's a hack n' slash action game which is exactly what it should have been in the first place. Anyway, Leo, Mikey, Donnie and Raph turn on the heat against the street thugs, mutants, Foot Clan, and legendary bosses with their unique combative skills. Jumping, spinning, and punching comes easy for these guys but you can upgrade their abilities so that they can unleash their ninjutsu moves on unsuspecting opponents. Additionally, you can upgrade weapons and boosts like the Freak Streak and Whack Attack to put an entertaining spin on the action.
Swiping across the bad guys for a chain attack will unleash a Turtle Power mini game where you can fight with all the four turtles at one time! The game features a normal Story Mode but you can wind your way past endless waves of enemies in the Survival mode too.
The game is packed with action and unfortunately IAPs too. Its not free either. You'll have to cough up $3.99 if you want it, so it all comes down to how big a fan you are of these all American heroes!