Are you still navigating perilous cliffs and trying to make good your escape with the cursed temple idol in Imangi's  Temple Run 2? If you have given yourself a breather, its time to get the latest update from the Play Store now. This one comes right in time for the holidays and brings Christmas cheer to fans of the game. Yes, Santa has made it to the game and he's also coming with lots of presents.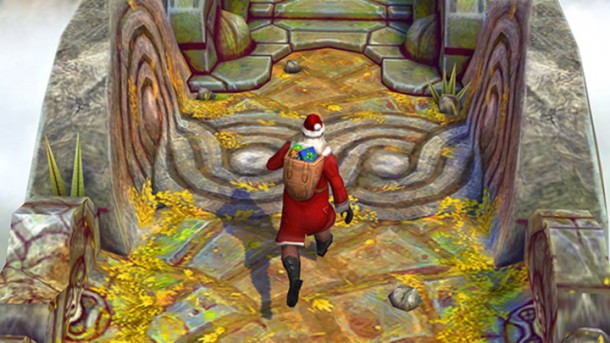 60 gems, that's what it will cost you to unlock Santa but you can also purchase him using real world cash. You can also pick up holiday artifacts such as hats, presents, stockings, and collectible masks on your runs and use them to dress up Santa or even the Temple doors. Another new feature that has been introduced in this update is the water slide. You can now take the wet route to escape the big bad gorilla by making a quick splash and dash in the water slide.
Grab the latest Christmassy update from the Play Store and have a spectacular run up to Christmas.