Its been 23 days since independent game development studio Adventure Mob listed their point and click adventure Bolt Riley on Kickstarter seeking $120,000. With 7 days to go and just $37K+ in their kitty the team really needs some heavy backing to make their Jamaican reggae adventure a reality on every gaming platform.
The game revolves around a poor Jamaican boy (Bolt Riley) who goes through a journey of self discovery to become a sensational reggae legend. As Bolt, you have to form your own band, write and produce songs and perform them. The game plays out in three parts, each part dealing with a different aspect of Bolt's struggle for success.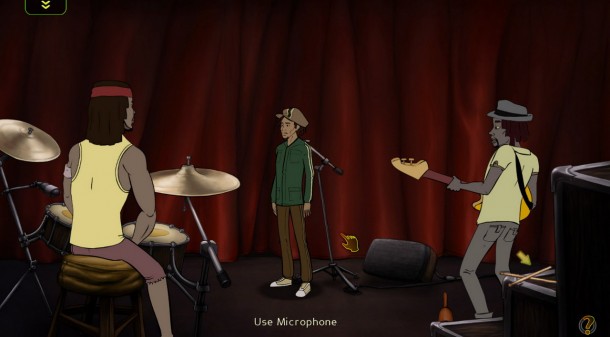 The selling points of the game are the beautiful hand drawn 2D backgrounds, hand drawn cel animation and professional actors voicing the various characters. Players will also be able to cloud save the game so that it can be continued on any device from where it was previously left off. Essentially you could start playing on your PC, continue it on your iPad when you're on the go and then finish it off on your gaming console. Like all Kickstarter projects, backers can pick up cool rewards ranging from a T-shirt to a collectors edition or a game character in your image.
If Adventure Mob is able to realize the basic funds, Bolt Riley Chapter 1 will become available for PCs, after which it will move to Ouya (based on the Free The Games Fund collections). The game will then become available on the Android mobile platform.
The developers plan to have the game released on PC by April of next year but they will need your help and support to make it happen. There are just seven days to go and plenty of money needed to fill up the coffers. If you like what the developers have done so far (you can check out the Alpha demo here http://bolt-riley.com/alpha) and wish to see Bolt Riley on the mobile platform, be sure to back their project and spread the word to your friends and social contacts (share, tweet, post, like, instagram, tumblr, pinterest or you could even sing a special reggae tune to show your support) so that Bolt Riley truly overcomes the odds and becomes a reality.