Whatever your opinion of their product, Red Bull (or at least Red Bull's marketing department) undoubtedly knows a little bit about being extreme. Hosting airplane stunt races, buying entire football clubs, sending a man to jump from a ridiculously high point above the earth… when it comes to doing something incredibly expensive and/or dangerous, the gasoline-meets-Smarties-flavored energy drink is there to slap their logo all over it and call it a day. Enter Red Bull Kart Fighter 3. Sure, hoping in a motorized vehicle and engaging in combat with other drivers isn't super extreme when you're doing it from your armchair, but if you don't think the real-life equivalent isn't dangerous as heck you've clearly never been to Atlanta.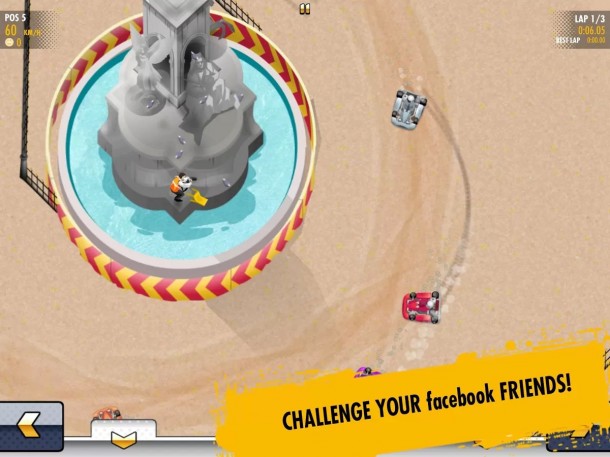 If you prefer to keep things safe and secure during your energy drink-branded bouts of vehicular manslaughter, the free app might be right down your alley. You'll race, drift, and jump your way through tons of tracks, unlocking new racers as you go, and can even challenge your Facebook friends to multiplayer matches. Assuming you have any, of course. Just kidding! We're sure you have a healthy online social life, assuming you haven't murdered most of your buddies on the virtual roadway.
The game also features an objective system to keep single-player users busy and a card-based upgrading system we're sure has been all the rage since some new anime fad surfaced six months ago. On top of that, it's got an online leaderboard, meaning it's easier than ever to brag to uninterested family and passersby about your new high score. High scores, as we all know, are a super important part of getting into the college of your choice.
Here are some key points as related to us by the Red Bull marketing staff, who then kickflipped a skateboard over a volcano:
A true arcade race experience
All new karts and stunning new tracks
More karts and tracks in upcoming updates!
Huge jumps, tricks and loads of drifting
Boost your karts with Wild Cards
Take on 'The Mechanic''s Objectives
Use your daily Free spin to check out locked tracks and karts
Master each race and be No.1 on the leaderboards
Race against your friends with in-game challenges
Collect and customize all the karts
As you can see, it looks like a heck of a game! Check it out if you always got kicked out of the go-kart ride at the fair for ramming into other kids… jerk.