Real Racing 3 has just received a new update with plenty of good features and enhancements packed in version 1.3. Obviously any version update to the game is pointless without an infusion of the coolest cars on the planet. Last month it was the turn of the Benz and Bentley and this time, it's the turn of the big V8 muscle cars, Dodge and Shelby. I believe that you'll see the Shelby '67 Cobra GT500 – GC 80, Shelby '66 Cobra 427® – GC 180, Dodge '71 challenger and the Dodge '69 charger in the latest update.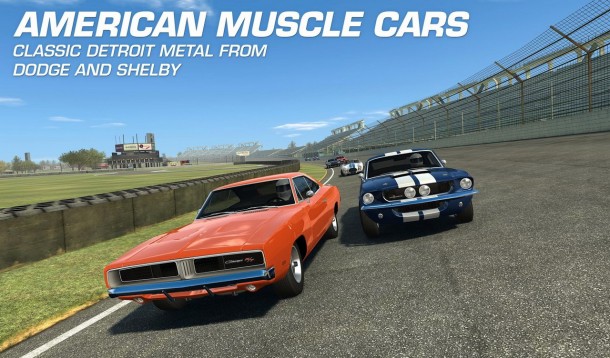 With new cars come new events in the form of a challenging Classic American Muscle series featuring Dodges and the Cobra GT500 and the The Legend Continues series featuring only the Cobra 427 under the Vanguard Challenge. Other feature enhancements include a difficulty tuning for more accurate skill adjustment when the competition gets tougher. Cars like the Porsche Spyder Concept, Koennigsegg Agera R and BMW ALMS have seen significant improvements and should handle much better now.
Fresh visual enhancements now make the classic muscle cars more realistic and lifelike. The cameras have also received some improvements to make the racing experience more authentic. And finally, you can make your social networking friends green by showing off your driving skills with Google + integration.
Check out the sizzling hot cars in this latest video promo!
And if you haven't given the game a go yet, it's available for free on the Play Store. Be sure to check it out!