LINE Corp. publishers of the popular messaging app Line have a new addition to their game collection. It is a side scrolling endless runner called LINE Cookie Run that features a delicious batch of cookies who are desperate to escape getting baked in the witch's oven.
Endless runners are starting to get a bit stale but Cookie Run is quite delightful because you get to watch different types of confectioneries come to life, run, jump, and slide past obstacles on their way to freedom. You control the movement of the game characters using touch screen options, but you can also use the virtual buttons at the bottom of the screen to run and jump. As you run, you pick up coins and other collectibles that will help boost your scores. Collecting 9 letters scattered throughout the game that spells out BONUS TIME will unlock the Fever Mode, which is a coin and jelly collecting paradise.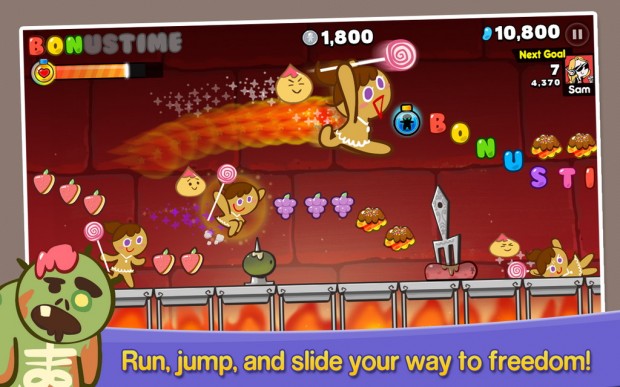 Luckily bumping into obstacles will not make you start over again. Instead you only find your energy meter dropping down. However your cookie will crumble if your energy gets to zero. There are Restore Potions scattered throughout the game that will give you the much needed energy to continue your runs so you'll have to watch out for that as well.
Plenty of interesting elements like the Bear Jellies, Magnet Jelly, Coin Jelly, Giant Jelly and Blast Jelly make up for the entertainment factor in this fun platform runner. You can also hatch eggs to brings along the pets on your adventure.
LINE Cookie Run is free to play but you will need to create a LINE account to get going. You can also invite your friends to play along and compete with them for top scores.
If you love LINE games, and are looking for a light cartoony runner, just hit the Play link button below to download the game.