Way back in the '80s author Joe Denver wrote a series of books called Lone Wolf which sparked many current gamer's passion for roleplaying and fantasy. These books were nonlinear and you were the hero. Now the saga is back and is an interactive game for Android devices simply called Joe Denver's Lone Wolf. Joe Denver has teamed up with Forge Reply, Atlantyca Entertainment and Bulkypix to create a brand new story in the Lone Wolf universe that will satisfy long time fans and newcomers alike.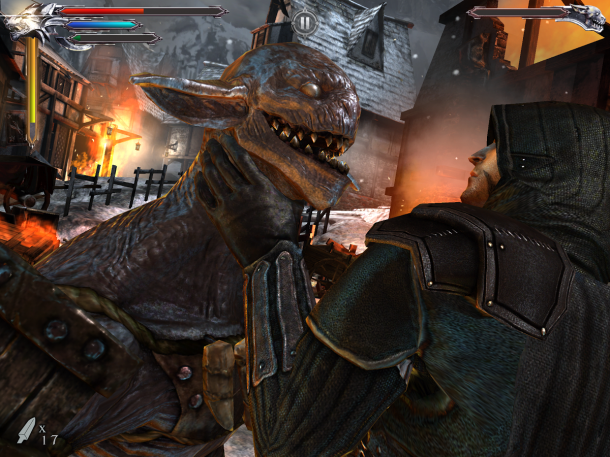 The story in the Lone Wolf series has you as the last of the Kai Lords and sole survivor of a massacre against your order in the fabled land of Magnamund. So far only the first chapter of Joe Denver's Lone Wolf is out called Blood on the Snow where you liberate the village of Rockstarn and discover evil plans by the Darklords of Helgedad. Joe Denver's Lone Wolf  has you being able to create your character from one of the Kai disciplines, multiple traits and loads of gear. As per usual, gameplay is nonlinear and your choices determine your story. Combat is a real system instead of dice rolling so you need to become a master of arms with swords, maces and axes.
Perhaps even more interesting for fans of this style of game and of the Lone Wolf saga is that Joe Denver's Lone Wolf is basically an enhanced gamebook in your pocket. There are stunning 3D graphics to bring the fictional world alive and this is a dark and deeper representation of Lone Wolf than ever before. Illustrations from the medieval tome are actually real  and handdrawn giving it an extra sense of realism. So if you're into roleplaying gamebooks, a fan of the Lone Wolf series or just curious of it all, check out Joe Denver's Lone Wolf out now for $4.99.