Hubble Bubbles is an arcade game set in space where your main intention is to fly as far as you can on your spaceship Hubble. The game has many bubbles floating around and you must bounce the bubbles to push Hubble as far as you can. Tapping any bubble on the screen will move the bubble up. When Hubble is above the bubble you tap the spaceship to fly further.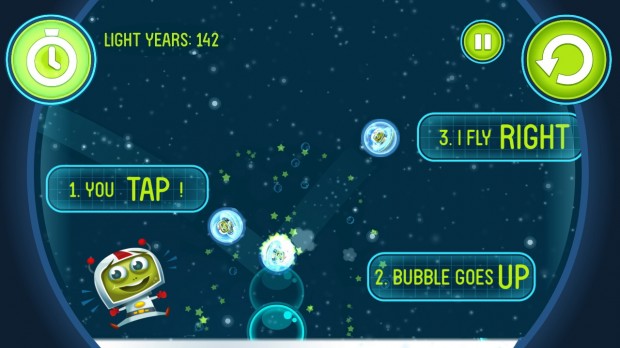 It does sound a little confusing and the gameplay doesn't get any better. You expect a lot to happen in the game but it gets frustrating when Hubble comes to a standstill. The game has a Restart button that lets you replay the game over and over again. You can also make use of the Time Warp feature, which slows down time, one that will give you an advantage when juggling the bubbles.
Additionally, you can discover secret levels, compete with friends for leaderboard glory, earn achievements and show them off to the world.
Hubble Bubbles is free to play but is ad-supported. This isn't a game that I would whole heartedly recommend, but you might want to give it a try if you love juggling bubbles in a beautiful spatial atmosphere.