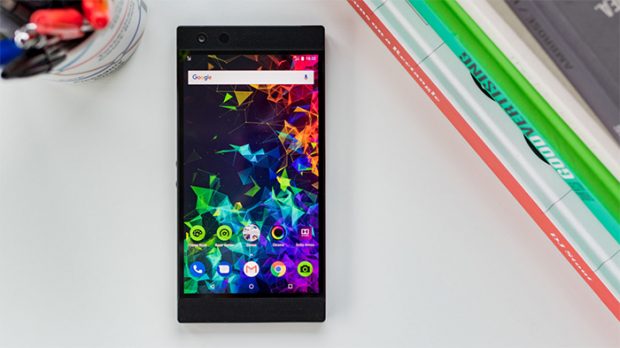 Technology has come a long way in recent years, and the expansion of smartphones has transformed how games can be played on a portable device. Rather than just a contact necessity, phones are now entertainment hubs as the union of innovative technology and the most up-to-date software provides a spectacular virtual experience.
Such a rise in technology has also enabled concepts such as online gambling to be hugely important in the gaming world. Mobile gaming on platforms like bingo game sites have enjoyed an incredible surge thanks to the increase in devices that enable play wherever you are. But, regardless of what games you like to play, just which Android mobiles should gamers look out for?
Razer Phone 2
The original Razer Phone somewhat missed the mark, but the same cannot be said of its sequel, the very originally-named Razer Phone 2.
It's a gamer's and gambler's paradise as an increased power outage ensures the Razer is able to support any game or casino/slot on the Android market. Even with a brighter screen, louder speakers and improved cooling system from the original Razer, the 2 is a catch as a normal smartphone. Its improved water resistance and dual lens high resolution camera ensures success as an everyday device. Though, with a price tag of nearly £800, it's unlikely a non-gamer will purchase it.
Samsung Galaxy S10+
A mouthful of a name, the Samsung Galaxy S10+ is a unique bit of kit. Dubbed Samsung's new 'everything phone', its 6.4-inch screen enables a truly astonishing wide-screen gaming experience.
And, Samsung themselves have launched its own Exynos 9820 SoC instead of the generic smartphone Qualcomm Snapdragon 855 SoC, giving it more than an advantage over its rivals.
The ability to change resolution to save power enhances the Samsung experience, truly bringing gaming and gambling to life. Though its hefty £799.99 price tag may put a lot of people off.
OnePlus 7 Pro
As a gaming smartphone that isn't supposed to be one, the OnePlus 7 Pro is a work of art. Curved edges and incredible performance, combined with a fantastic audio and no notch, ensures the Pro is as good a gaming device as you will see.
An upgraded Gaming Mode means a much better picture quality, but the Pro is also able to block notifications and calls while you're playing – essential when you're trying to concentrate on a slot or try out some new, great games. Plus, its high refresh rate ensures even the most intense games can continue to run. At over £500, however, the OnePlus 7 Pro will set you back a good penny or two.
Huawei Mate 20 Pro
A gaming phone that will only set you back £389.99 is enough to set the pulses racing. Well, Huawei have developed one – and they haven't scrimped on quality either.
A fast processor and large storage accompanies this sleek device whilst an enormous battery can power up a day's worth of gaming and gambling. Mobile photography is also a key part of this Huawei and the company has produced a gem – it even runs smooth.
Asus ROG Phone
The Asus ROG Phone looks like something out of a fantasy world. An incredibly sleek-looking, futuristic outside is combined expertly with a customised incase cooling system, a large memory and a rapid and powerful processor to provide an incredible gaming device.
It's not exactly cheap – £539.99 – but it is definitely worth considering. With a high refresh rate and a six-inch screen, the Asus delivers smooth, uninterrupted gaming and gambling at the drop of a hat.