There's no dearth of magnificent cars in Real Racing 3, but the absence of the Ferrari may have been sorely felt by players for long. Not anymore folks! Firemonkey's latest game update includes just want you've been wanting all along; the FF, the 458 Italia, and the V12-powered F12berlinetta. You can take these stallions for a spin on a brand new circuit too; the Spanish Circuit de Catalunya, known for its sweeping turns and vicious straights.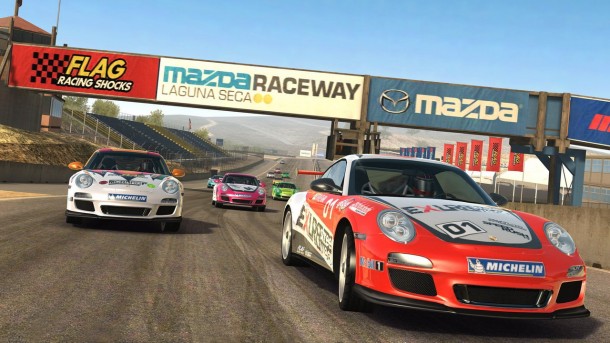 The latest update also includes improvements to the Time Trials section. So now, if you want to top the leaderboards you've got to do it fair and square. If all four wheels of your vehicle go off the track your Time Trial attempt will become invalid and your scores won't make it to the leaderboard. Fresh with this update is also a new seasonal leaderboard, where the Time Trial leaderboards stay valid only for a current update. For every new update that happens, a fresh seasonal leaderboard competition will begin.
Another exciting feature is the Ghost Challenge where players can download and race against any other player's Time Trial ghost lap. This is perfect if you want to observe your friends and challenge them with a fresh new perspective in hand. You should be able to access this feature by hitting the VS button next to each leaderboard entry.
Finally, the update brings some small but significant improvements by way of cleaner turns through the first corner (avoiding collision), ability to hire crew to earn R$, Fame, and servicing bonuses, tweak new settings to personalize your racing experience, and a precise performance comparison of lap and sector times.
This latest update is already live on the Play Store, so rev up those Ferraris and blast away!