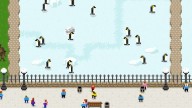 news · 9 years ago
By the same creators of super addicting games like Tiny Tower and Pocket Trains comes Disco Zoo.
review · 9 years ago
Pocket Trains - Come on the Train, and Run It!
When developing their hit title Pocket Planes, NimbleBit was originally going to make the game Pocket Trains, but instead opted to embrace the power of flight instead of traveling across the countryside via boxcar.
news · 10 years ago
Pocket Trains Arrives at Station
One of the more highly anticipated mobile titles lately has been that of Pocket Trains, the land based version of Nimblebit's Pocket Planes title.