Pudding Monsters is a witty puzzle game which involves putting blobs of pudding together to form a certain pattern. Here, the player must help the poor little puddings escape from their master. It may seem easy at first, but the fact that it is a strategy game becomes evident as the game goes on. It should be noted that despite its kid-friendly graphics, it remains to be a mind-bending game, which makes it great for kids as well as adults.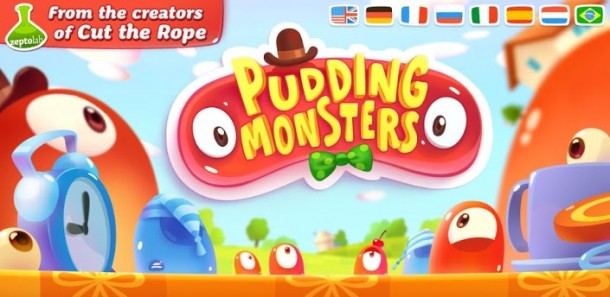 The Pudding That Sticks Together
Although putting a bunch of pudding blobs together sounds like the easiest thing in the world, it actually requires the player to think before tapping. These blobs not only need to stick together, they should also fill up at least one of the star tiles on the floor. The amount of stars collected will determine whether or not you can proceed to the next phase of the game.
Ideally, you should collect three stars in each level. However, failing to collect the required number of stars won't allow you to move to the next phase of the game. If you don't have enough stars, you'll need to play previous levels again or pay real money to unlock the next world. The game has three worlds: Fridge Escape, Room Invaders and The Neighborhood.
A Sticky Situation
The game controls are simply a matter of swiping the blobs up, down or sideways. If a blob is swiped, there should be another object (such as an ice or a log) to stop it from slipping away from the screen. I found that these barriers help immensely with getting the job done. It may appear random, but bear in mind that every object is placed with a purpose, and it's up to you to find out how it will work.
If you don't mind spending extra cash, the game has a Mushroom Boost option. This allows the blobs to reproduce, which means they group faster. You're given one free boost for the entire game, and the rest are available for purchase starting at $1.99 for six boosts.
Getting Out Of The Fridge
As the game's premise narrates, these puddings want to escape from their evil captor, so each level gets them closer to their goal.
As the levels get harder, you'll also notice some new blobs appear. In Room Invaders, purple blobs move as one when swiped, and it becomes a bigger challenge to group them with other regular blobs. In this case, your strategy might need a bit of adjustment to cope with the little, uh, irregularity.
A Sweet End In Sight
If you're into puzzle games, chances are you'll enjoy playing Pudding Monsters until the very end. One complaint I have with this game is that there seems to be too few levels and it ends rather abruptly. It is addictive, so if you expect longer playing hours, then you might be slightly disappointed. There is a promise for more levels coming up, if it's any consolation.
Despite the short playing time, this game has excellent graphics, funny game characters and an engaging interface. For anyone who's looking for a visual and mental treat, this game should be an excellent choice.