If your ambitions have ever crossed into the realm of engineering and construction, Transport Tycoon is a game that will pamper your senses. This 1994 classic PC game has been ported onto Android most faithfully by  31x and Origin8 Technologies with inputs from its original designer and developer Chris Sawyer.
You still get the look at feel of the originals' pixelated graphics, the classic look and feel of the environments and vehicles, but there is richer simulation and more complex worlds all designed as brilliantly as one could for a touch screen interface.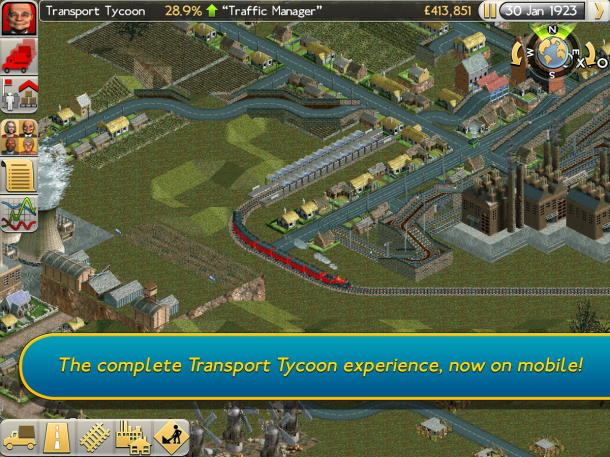 In Transport Tycoon you will explore a wide range of landscapes (deserts, forests, mountains, valleys and islands) and build your transport empire across each of these environments. You will deploy buses, tram networks, lay railroads, construct bridges, build airports and seaports and convert ordinary towns into rich industrial hotspots and bustling cities. This simulation game features over 150 vehicle types and 49 scenarios for you to put your engineering skills to the test.
There's plenty of in game content to go through; modifying vehicles with the turn of time, upgrading to the newer models as they emerge, assigning new routes for traffic, and competing with rivals to ensure that you remain the transport tycoon of the land.
You can bet your bottom dollar that this feature rich game ain't gonnna come cheap, so be prepared to splash $6.99 for this jewel.