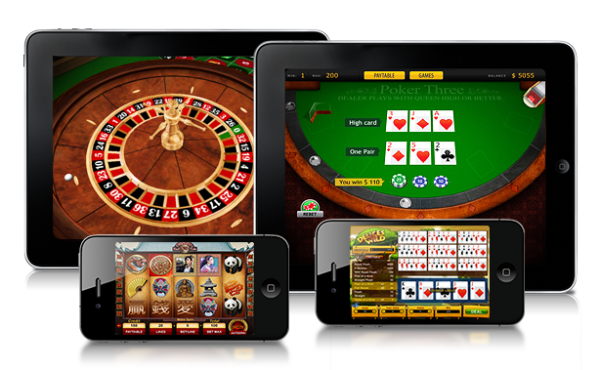 2017 was a breakthrough year for casino apps on the Android platform, as Google relaxed its rules on publishing such material on their Play store. As we enter a new year, there are more and more apps available for download, allowing you to play casino games direct on your Android smartphone.
Of course, most real-money online casinos have mobile-friendly sites these days, and you can always check out the latest welcome bonuses on CasinoUK and other comparison sites. However, since most players prefer to use native mobile apps while on the go, so here are the top 5 Android casino apps for 2018.
Slotomania Vegas Slots Casino (Playtika)
Most casual players in Vegas head for the slot machines first, and with good reason. There are so many fun themes available, and the chance to win big really gets the blood pumping.
The Slotomania app manages to transfer most of the fun of a Vegas night to your Android device, which is why 14 million people play it regularly. The secret to the app's success is its huge selection of slot game favourites.
Grand Phoenix, Vegas Cash and Despicable Wolf are all titles which have proved to be incredibly popular, and now you too can spin them whenever you want on your Android smartphone.
Hit It Rich! Free Casino Slots (Zynga)
If you have some favourite slots which are not covered by the Slotomania app, then chances are you will find them on this Zynga app. Wizard of Oz, Willy Wonka and Marilyn Monroe are all perennial Vegas classics and come included, letting you enjoy the thrill of playing some of the most celebrated slot games of all time.
However, Hit it Rich! also comes with some cool new additions, such as The Terminator and Downtown Abbey. In fact, this wide range of themes to suit all tastes is what makes this app an absolute must for all slot fans who own an Android device.
It's free to play, although additional coins can be purchased. You can even invite your Facebook friends to play against you, meaning the fun never has to end.
Texas Hold'em Poker (Zynga)
The second one on our list from Zynga, this app has picked up almost 2 million reviews so far and shows little sign of slowing down anytime soon. Fans of the movie Rounders with Matt Damon and Edward Norton love to use this app to practice some of the hands they saw onscreen.
The game is a versatile one, with multiple options to choose from. The classic cash game is there, and there is even a high-stakes jackpot available for those with a higher risk appetite.
As with all Zynga games, it runs on a freemium model, so casual players don't have to spend a dime, but in-app purchases get you additional content and some in-game currency. If you wanted to find out what the Texas Hold'em fuss is all about, then download this app and see if it's for you.
World Series of Poker – WSOP Free Texas Holdem (Playtika)
For those who want to graduate to the next level of poker play, the prestigious World Series of Poker app offers an authentic and exciting experience right on your Android device.
Although this app doesn't allow real money gambling options, there is a leader board for you test your skill level, free chips every 4 hours, and a WSOP bracelet is up for grabs for those who learn to play like a pro.
Perhaps the most fun aspect of this app is the social one – you can play with friends, and connecting your account to Facebook means you pick up a fantastic $15,000 worth of additional chips.
World Blackjack Tournament (WBT / Neon Games)
Blackjack is the second most popular card game after poker, and this game is known for it's reliance on the skill and judgement of the player, as they seek to beat the dealer at getting to that magic number 21.
In the same way that Rounders led to an increase in interest in poker, the movie 21 did something similar for blackjack. If you fancy yourself as the next card counter, why not try your skills on this free-to-play app from Neon Games?
WBT offers real casino rules for the most lifelike gameplay you could wish for, even offering tournament play at Vegas and Macau. You can play against friends and against players of the same skill level as yourself, letting you rise through the ranks to be the next blackjack hero.