Leonardo, Donatello, Michelangelo and Raphael, the famous teenage mutant ninja turtles, who always brought out the kid ninja in you has now landed on Android courtesy MTV Networks. This time it's the evil Kraang ship that is spewing mutant aliens onto unsuspecting earthlings and the TMNT are here to make sure that they battle the evil droids from Dimension X using their superior skills.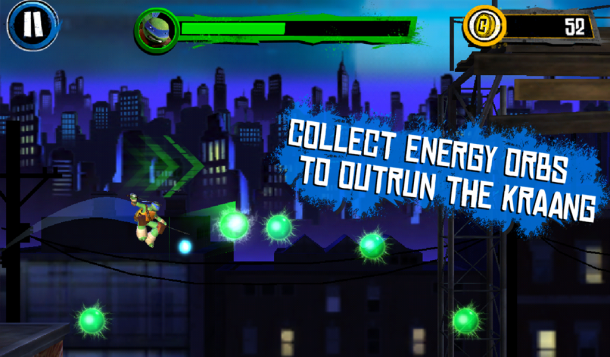 But before you get too excited, this isn't some big action brawler game, but rather an endless runner where you will have to collect energy orbs to unlock special weapons and gear that will help bring down the enemies. There is some combat in the game though its nothing you can't handle with some single tap controls. Like most endless runners, there's a lot of jumping and double jumping to be done, coins to pick up, powerups and boosts to unlock, obstacles to overcome, and enemies to tackle. One unique feature is Turtle time, a sort of a mini game where you tap till the heavens fall on you to grab some extra coins and move into newer territories.
Here's a quick look at the top features.
Key Features: TMNT: Rooftop Run
Battle hordes of enemies including the Foot Clan, Kraang, and Dimension X
Activate Turtle Time to fight up close in a slow-motion combat sequence
Outfit the Turtles in exclusive Cyber and Stealth gear
Upgrade with weapons, gadgets, and boosts like the Laserbot and Turtle Saver
Unlock and play as the Turtles' formidable canine foe Dogpound
Earn rewards from the pizza time mini-gam
TMNT: Rooftop Run costs a pretty penny at $3.99. While you may be able to avoid the IAPs, you may find it a tad difficult to accept that you need to dish out way too many coins to unlock the rest of the turtles.