Last month we told you about a new Angry Birds kart racing game called Angry Birds Go! We now know a little more about the game now, though Rovio Entertainment is still tight-lipped. One interesting piece of information is that Angry Birds Go! will include Hasbro's line of telepods and Jenga toys in the game lineup. So, if you enjoyed scanning your telepods just like you did in Angry Birds Star Wars II, you are probably going to enjoy doing the same in this upcoming kart racer.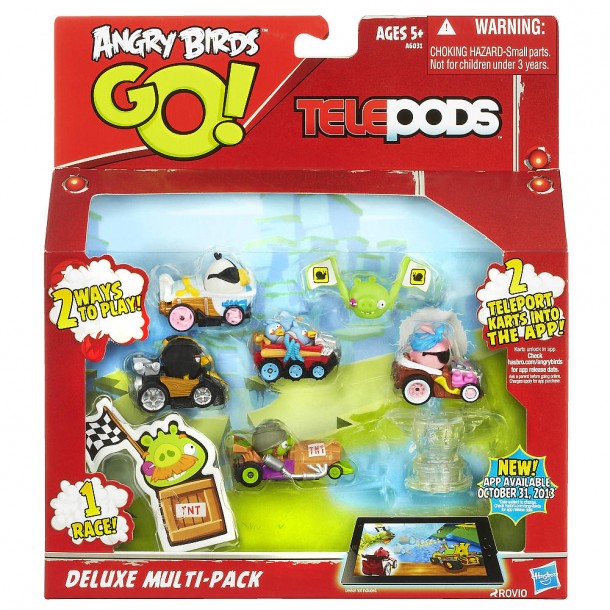 Since Rovio hasn't revealed anything more about the gameplay, we could be tempted to draw our own conclusions (for now) about what may possibly happen. For instance, apart from the pig-on-bird racing action, there could possibly be some building, launching and destroying activities as well.  The inclusion of a Pirate Pig Attack pack, for instance suggests that you may have to race against your arch rivals to bring down their pirate ship.
As for the toys themselves, Hasbro has designed plenty of packs that includes an entire fleet of speedy racing karts to go with your favorite Angry Birds characters. Once you scan your karts on to the app, you can choose which kart to race in the game. We do know that Angry Birds Go Deluxe Multi-Pack will include 5 karts, 2 targets, and a Telepods base for $24.99, but you'll also have toys starting as low as $4.99. All toys from Hasbro and Jenga will become available at major retail locations in USA and Canada beginning October 1, 2013.
Going by one product packaging, the game is likely to be launched on October 31st, so expect Rovio to dish out more info in the coming days. As always, we'll be here to let you in on all the latest.