No, it's not a new Barbie resort. It's not a nice Carribean island with white sand and whiter coconuts. Actually, after seeing the new gameplay video for this game (here) we find the title to be most misleading. Sprinkle islands should be "fiery doom on very inaccessible rock cliffs with strange icecubes and even stranger elevators". We don't know what the residents of ominous island did to deserve such armageddon (not sacrificing enough virgins, must be that) but luckily for them, this is where you get in the picture. Oh how lucky they must be.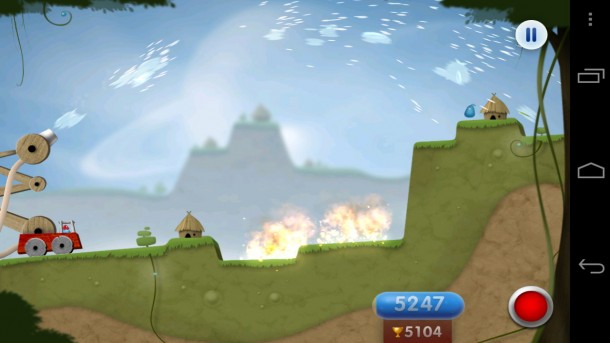 With a small strange Flintstones looking water boser (firefighting truck) you must move through the environment by water hosing giant ice cubs, rocks and other stuff to make bridges or push elevator floor buttons in order to extinguish burning hutts. And that's not all, there's a load of islands so bring an extra can of gas.
That being said, we find the game quite unrealistic. On several occasions we conducted a scientific experiment to determine whether such unique way of "interaction with the environment" would be possible in real life. Wee peed in and on a real elevator but not a single button was pushed. On a bright side, we now use the stairs and exercise is quite good for us so the experiment was a success. Science wins the day once again.
Oh yeah, Sprinkle islands, follow-up of awarded Sprinkle in 2011, will arrive on Anroid, iPad and iPhone in June 2013.