Reggie's world is turned upside down when a top secret virtual reality hardware experiment goes wrong and bugs and glitches are unleashed into his world. A world where the sun no longer smiles gently down on him as he heads off to work, but instead scowls and spews fireballs. And that's just for starters. There are killer cars, lava floors and men in bodysuits all waiting to see him dead. In a world that has simply gone berserk, you are given the toughest job in the world; to see Reggie commute to and from work safely.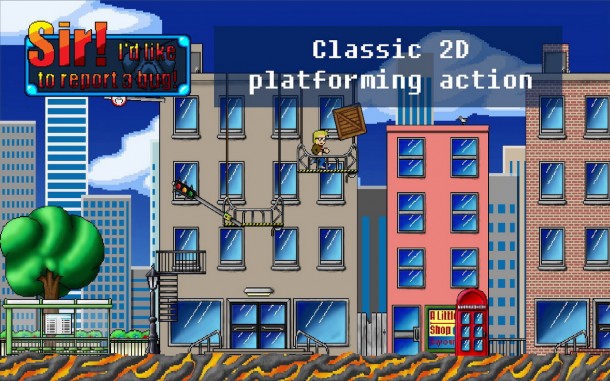 British indie game development team, Lord Puggington Games' 2D platforming adventure Sir! I'd Like To Report A Bug! is a game that is reminiscent of the retro games of the bygone era. You'll find beautiful pixel art, chip tune soundtrack, and even in- game challenges that remind you of the pains of playing games back in the old days. But you don't have to take the game too seriously, as there's plenty of humorous references to keep things lighthearted.
The game is free to download and play, with the option to donate a certain amount of money, if you love the game. You may even get free additional content if the donations reach a certain targeted amount.