Italic Pig, the game developers with a crazy sense of humor believe that nobody can ever get anywhere by thinking medium. So they decided to come up with a multi-dimensional action-adventure-platforming puzzler with a dead or possibly alive feline as its hero in its first-ever insane metaphysics game called Schrödinger's Cat and the Raiders of the Lost Quark.
It's one thing to understand the complicated thought experiment of Schrödinger, but to translate that onto a mobile game? Well, Italic Pig must be genius, not just to come up with the idea, but to make it a reality.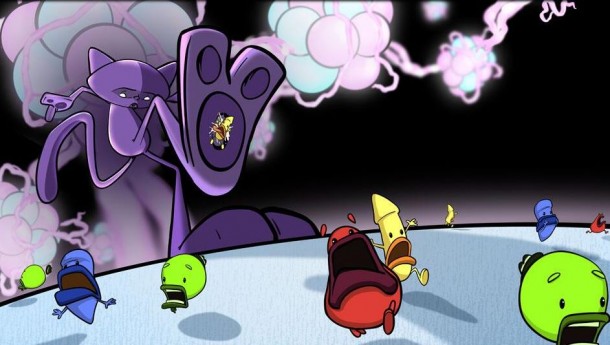 If there is a zoo for holding animals, in Raiders of the Lost Quark, there is a Particle Zoo that holds elementary particles of the Standard Mode roaming around in their natural habitat. An unfortunate accident causes all these particles to escape from their enclosures, causing plenty of chaos. The Zoo is put on lockdown mode and the emergency services (Schrödinger's Cat) are called in.
Players will taken on the role of Schrödinger's Cat and along with an army of anthropomorphic quarks, create temporary matter such as bridges, ladders, shields and such to combat and control the villainous particles running amok.
The game's key element Quarks are the most interesting part of the play. Quarks are the items that create the temporary matter and they come in packs of three. There are six quarks in all, each with different abilities and players must combine the quarks in such a manner so as to build the right items.
Make sense? Yay!
The game doesn't just stop at platforming. There are also additional modes such as Promenade and Enclosures that bring in a puzzle solving and problem solving element into the game as well.
If all this metaphysical terms are turning you off, here's what you can expect in this game. Plenty of  fun, jumping, flying, punching through walls and challenging puzzles! Heck, I should have just told you that much sooner!
Schrödinger's Cat and the Raiders of the Lost Quark is a crazy idea in a cool avatar and its coming in January 2014.