We've done plenty of goofy stuff with zombies and vampires but playing volleyball certainly hasn't been one of them. Former PopCap developers Mike Boeh and Juraj Molcak decided it was time we did just that by introducing the wackiest volleyball game yet, called Vampire Volleyball.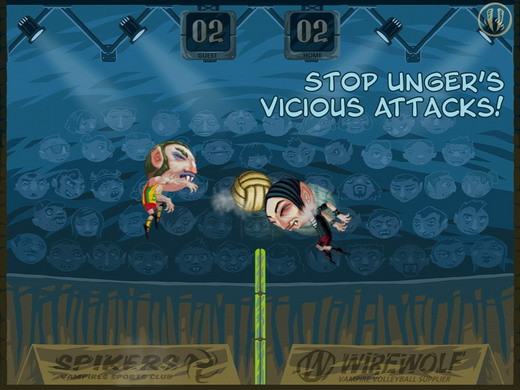 As you may have already guessed, you will be taking on the role of a male or female vampire and battling against 8 unique vampires who come with some special crazy moves including kung-fu kicking, volleyball blowing and head expanding butting. There are two player modes and one single tap action but it is quite challenging to score the winning points, since you have to get your timing and height just right. The net, walls, and ceiling also come into play here as you can use them to get the maximum spin and projection. You are a winner if you reach a score of seven, but if you don't death by bright lights awaits you!
Vampire Volleyball features creative graphics and an interesting soundtrack and looks to be a perfect game to play this Halloween. Just hand over your 99 cents at the Play Store to make your play date with a Vampire.