When the Titans attack the magnificent city of Olympus, there's chaos among the Greek Gods. After all, they are all Gods with big egos who refuse to accept that one among them is better at being leader of the pack. Luckily, you lowly mortal can make the compromise. Lead them on to battle in this whacky and humorous tower defense game from Yodo1 Games, OMG: TD!
Typical of most tower defense games, the enemies follow a defined path making their way from one side of the screen, hoping to reach the other end. You whip out your Greek Gods and station them at specific points on the map to unleash their powers. There's Zeus with his famous lightning bolt, Artemus with his bow and arrow, Ares with his mighty sword and so on.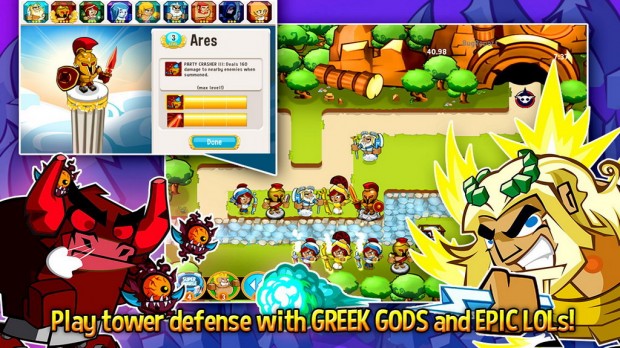 The action is set in three different worlds and there are twenty levels to put your tactical skills to the test. Gold and souls are your collectibles in the game which can be used to unlock and upgrade the skills of the Gods.
OMG: TD! has over 40 different types of monsters each of whom have their unique attack style and abilities. Luckily you get help from some additional non Godly characters ( such as Hercules and Daedalus) over whom you have no control, but their contributions come in handy now and again. Plus there are some crazy powerups as well..I mean who wouldn't want to take a stab at the Fist of God or get a piece of Hero's beefcake!
Greek Gods with super powers, put together in a hilariously fun package, and for the price of free. Who could resist, even if there were plenty of IAPs. You know where to download the game. (↓)