Currently CES 2014 is going on and that means a lot of new and exciting technology is being announced by some of the biggest companies. Nvidia is one of these and announced their latest chipset for mobile gaming; the Tegra K1. Also being called "the super chip" if you want to buy into all the hype. Although to be fair, super chip isn't that far off of a buzzword to call the Tegra K1 as it will be running 192 cores and is using Nvidia's new Kepler architecture which is just now being seen in Nvidia's PC graphic cards.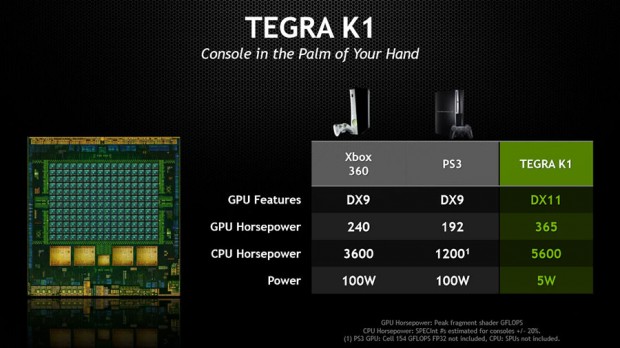 There actually will be two types of the Tegra K1 chip. A "basic" one that is a 32-bit quad-core (4-Plus-1 ARM Cortex-A15 CPU) running up to up to 2.3 GHz and then a more custom one that is a NVIDIA-designed 64-bit dual Super Core CPU (dual Denver CPUs running up to 2.5 GHz). Both, however, will still be running the 192 core Kepler architecture.
What does all this mean though for actual gaming? Well, this gives full support of all the current PC gaming technologies like DirectX 11, OpenGL 4.4 and tessellation which means it can now run Epic Games' Unreal Engine 4. It also allows for the same graphic capabilities as next gen consoles and faster performance than current gen. For more non-gaming aspects, the Tegra K1 allows for advanced computation capabilities which can be used in visual and speech recognition software.

A while back Nvidia talked about a Tegra 5 which you may be wondering what happened to it. Well, the K1 is actually that chip just with the updated name. Also it is being said we will be seeing the 32-bit Tegra K1 in devices early this year and seeing the 64-bit Tegra K1 later this year. Either way this year is very exciting for mobile gaming and technology in general.