The Android gaming experience is getting interesting by the day. After Rovio's announcement a couple of days ago introducing telepods to mobile gaming for their upcoming Angry Birds Star Wars II game, here's another interesting concept.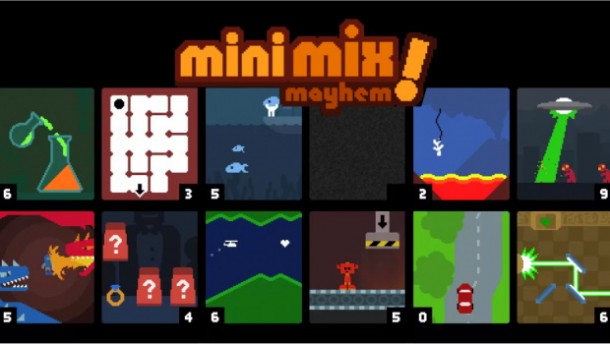 Playing four games simultaneously on one device. Or pairing up with friends and playing 20!
Yes, you heard me right! 4 or 20 different games on one Android screen, all at the same time!
That's what you'll get when you play Mini Mix Mayhem from independent game developer Chris Burt-Brown, who brings this crazy concept to life in a fun and challenging way.
Players will find their Android screen split into four blocks; each block running a short retro-styled game. The games are less than 10 seconds long and range from shooting to puzzle solving and endless running. The games are very easy to play but the challenge lies in managing to play all four games without losing.
There's also a 2 player mode for players to team up on opposite ends of a device and play and a Party mode for group playing. You'll need an Android tablet to deal with 20 mini games crushing your screen but it sounds like plenty of fun.
Mini Mix Mayhem currently features 36 mini games with a promise of more to come.
Mini Mix Mayhem : Key Features
36 mini games
4 games to be played simultaneously
single player, two-player, and party modes
You can download Mini Mix Mayhem for free on the Play Store now and tell us if you think Curt's idea is brilliant!