If you ever wanted to be a cool musical superstar but just didn't have the talent or attitude for it, no worries, Level Bit's got you covered, with the launch of their latest music RPG called Rise to Fame. In this game you can take on the role of a rockstar and show off your cool musical talents to a global audience.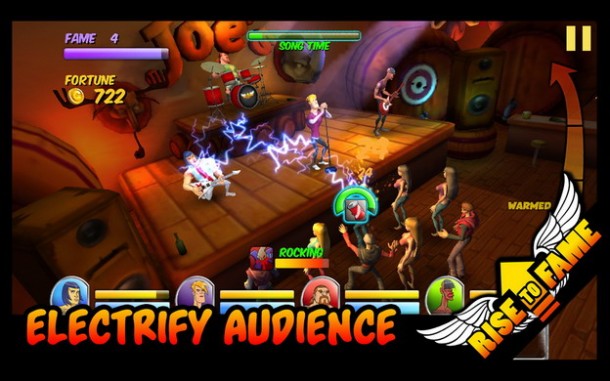 Rise to Fame takes you across 7 stage venues where you can earn money and fame by performing for a wide range of audience that include cowboys and zombies! You won't always be cheered on by a lively audience, there will be angry drunken crowds that may even throw stuff right back at you, and I'm not talking just underwear! On the brighter side, you can indulge in a bit of guitar smashing and sweet talking to impress the pretty ladies too.. yeah!
Rise to Fame gives you the chance to use your skills to alter music tracks, customize your band's outfits, grab some of the best instruments and upgrade those skills as you progress through the game. Here's a look at the noteworthy features of the game.
• Graphics- Cool, stylized 3D graphics.
• Songs- 5 totally original rock songs especially tailored for this game!
• Stages- 7 stages where you can try to satisfy audience before gig ends and become famous!
• Music – Alter music tracks with different special abilities of the band members.
• Outfits- Customize your band's looks with awesome outfits, which serve as your armor.
• Instruments- Try the best instruments as your weapons!
• Skills- Learn and use over 20 upgradable RPG skills
For just under two dollars, you can grab your guitar and Rise to Fame in this musically driven RPG.