Last month we discussed a crazy mind bending action-adventure-platform-puzzler based on the famous experiment of Schrödinger, where a cat sealed in a box with a radioactive atom will be both dead and alive at the same time (as long as you are not looking at it)! Irish based game developers Italic Pig have now debuted their 80 second video trailer that shows off what the game is all about. The cinematic music and voice talent of A.J. LoCascio, (of Back to the Future: The Game fame) has certainly got me excited!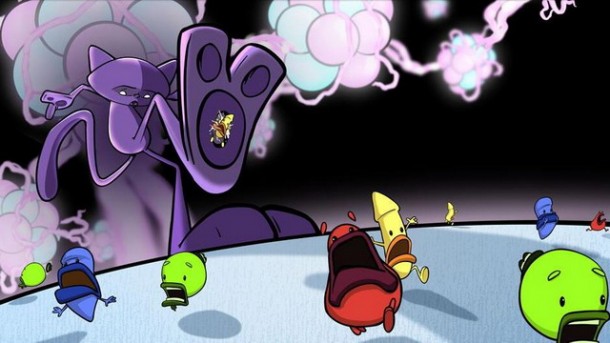 And methinks that even the scientists at CERN couldn't have done a better job. In the dramatic footage, we see the colored feline jumping across platforms inside the Particle Zoo ( a zoo where elementary particles of the Standard Mode are left to roam in their natural environment), collecting an army of Quarks that will help the feline navigate the harsh environment.
In the video you can clearly see how the cat makes use of the Quarks to drill down a platform, jump farther, fly higher, overcome obstacles and become invincible.
We are excited to see how Italic Pig can take a frightfully unappealing subject (quantum physics) and turn it into a dramatic and intelligent puzzle game that will appeal to even non-scientific minds. Schrödinger's Cat and the Raiders of the Lost Quark will be arriving on Android early next year, but we should be seeing more interesting information in the next few months. Stay tuned.