Its been over three months since Humble Mobile Bundle 3 came out, and if you've been missing donating to your favorite charities, while picking up some cool games in the bargain, you'll be delighted to learn that Humble Mobile Bundle 4 is out and for the next 13 days, you can pick up 6 awesome games and tell your friends to do so as well.
Humble Mobile Bundle 4 features Catan, Vector, Riptide GP2 and Zombie Gunship with two premium games, Badland and Breach & Clear available for those who are ready to pay more than the average price of the games, which amounts to $3.61. What's truly cool in this bundle is that all IAPs in Badland and Breach & Clear are unlocked and you won't have to pay anything additional for playing.
Catan is a resource management game that will have you building settlements, roads and cities with the ultimate objective of hitting 10 points. Vector is an exciting arcade runner where you run, jump, and slide over obstacles all while being chased by a "Big brother".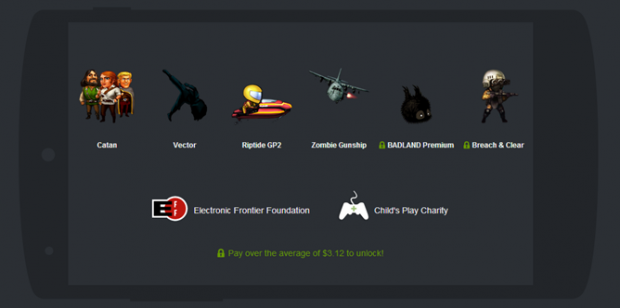 Riptide GP2 is a fast paced racer where you hit your rocket-powered hydro jets across futuristic tracks, pull some amazing stunts and show off your skills with players from around the world. In Zombie Gunship, you train your gunship on a horde of the undead who are hunting for what's left of the human species.
Badland Premium is an award winning platformer set in a stunning forest where something has gone horribly wrong and you must journey through it to discover the truth. Breach & Clear is a military styled strategy game where you build your army squad and employ your best tactics to defeat your opponents.
The total cost of these games amounts to $37, but you are free to pay a price that you see fit. You can also choose how you want your contribution to be divided. You can spread the cost between the developers, a couple of charities, (Child's Play Charity and Electronic Frontier Foundation) and the Humble Bundle people.
If you like what you see, head over to the Humble Bundle website to pick it up.