I'm sure you love football, both watching and playing it. But if you're a true fanatic you've always wondering and dreamed of managing your own football club. Picking and drafting players, making substitutions, strategy picking and keeping players and media happy. The Football Manager Handheld series by SEGA has been giving us this virtual opportunity for a year or so now and now Football Manager Handheld 2014 is out.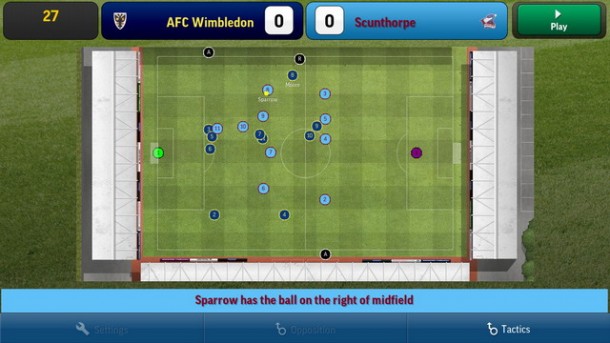 Football Manager Handheld 2014, this time around, changes up things a little bit for the better. Right away you'll notice improved graphics and a menu system that is more intuitive which is necessary seeing as how there is a ton of information to absorb. You can make your own club in My Club Mode where you can choose the name, colors and assemble your squad. Make a dream team from real life players or a team full of your friends and family to live out the ultimate football dream.
Everything in Football Manager Handheld 2014 is meant to be realistic and is more so than last year's edition. The transfer system this go around has more intelligent bidding and squad management from AI managers to try and better reflect the real world. There is a new player progression tracking system to better show how well one of your players are doing to help in your decision to keep or kick them out. The media system also is better represented and seems to have more of an impact this go around. Also worth mentioning is you're not limited to one country anymore but can choose multiple countries in career mode to give yourself a new sort of challenge. Football Manager Handheld 2014 is $9.99 but if you're into the more management style of sports then it is well worth the price for how much content and detail you're getting.