The delightfully fun minions from Gameloft's endless runner Despicable Me are ready to start off on a new adventure at minion beach. Gameloft have revealed that the original Despicable me: Minion Rush has just received an update that will feature the mischief makers in a whole new beach environment.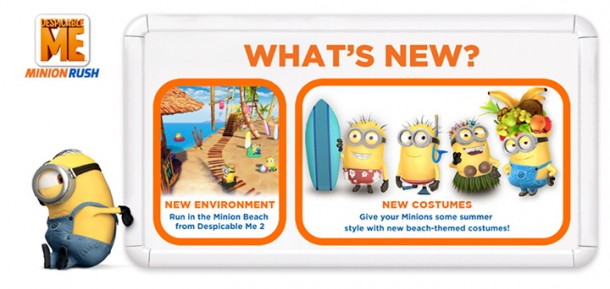 The update includes four new lanes for more variety and fun along with some cool summery costumes to liven up the atmosphere. You get to gear up your minions in Surfer, Snorkeler, Dancer and Vacationer costumes and make a dash for the cool waters, if you can!
A new option on the Friend's menu even lets you show off how despicable you can be!
If you have already downloaded the game before, don't forget to hit that update button. If you're thinking…duh…endless runner, I suggest you check out our review, put your prejudices aside, and download the game, update and all. You won't be disappointed. I swear!