Deconstructeam's Gods Will be Watching, developed on a minimal theme within 72 hours, emerged as a mini Flash game for an event called Ludum Dare 26. It secured second spot in the event, received over 10K plays per day and the press and the public heaped tons of praises for its creative gameplay. Having realized the game's potential, the development team has set up a special campaign for crowdfunding their project on Indegogo with a goal of 8000€.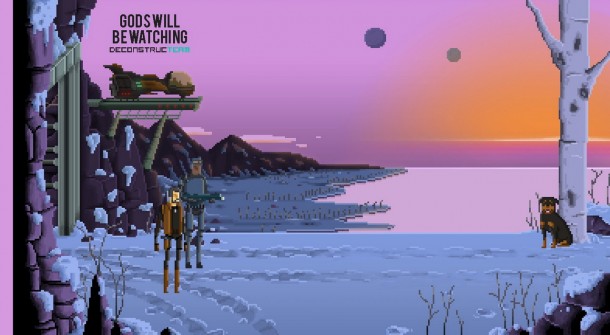 Gods will be Watching is a pixel art point-and-click adventure that deals with moral behavior and choices that we are forced to make in difficult situations. Players will take on the role of Sergeant Burden, who will lead his crew to a hostile planet where the team will be forced to make tough decisions to stay alive.
Choices such as sacrificing the lives of a few hostages to save a situation, or testing a dangerous vaccine on a teammate to survive a deadly virus that will kill you within 48 hours. If you choose to do save your friends, you may have to endure 20 days of torture.The question is how long will you be able to endure that torture. And if you do, will you choose to do it again.
The team has created various puzzles so you won't likely see a repeat of a  puzzle at any level. There are also plans to offer rewards for completing puzzles successfully, (such as not eating your friends to stay alive!), enhancing character development, and weaving an amusing and engaging story line.
Gods Will be Watching : Key Features
6 levels with intensely harsh challenges and possible solutions.
+10 hours of gameplay for the true survivors (hundreds in the likely case you keep dying).
New cinematics that will expand the game's background.
More than 10 tracks by Fingerspit.
Extensive list of challenges with tricky difficulty for the most stubborn survivors.
The Empathy System: player actions affect the whole group's attitude.
The crowd-funding for Gods Will be Watching has so far turned out to be highly successful with the goal reached in just 72 hours. However, there are 25 days more to go. So, here's your chance to play God. Show some love for Deconstructeam! Check out their campaign page, plug in some dough and spread the word around.