Chillingo, the guys who gave us plenty of physics puzzlers like Wake the Cat, Contre Jour and Catapult King are out with their latest venture Max Steel. Max, a teenager and Steel an alien team up to become a turbo-powered superhero who must save the Earth from the evil villains Miles Dredd and the Elementors.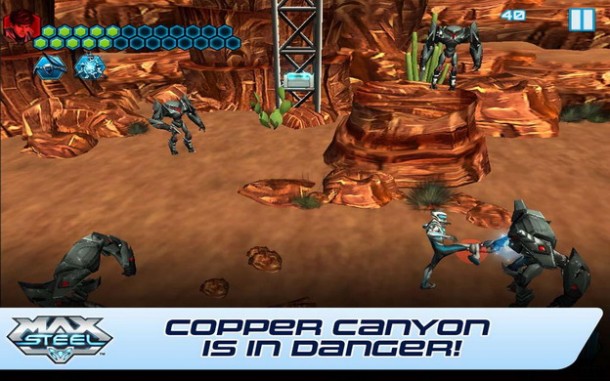 The story goes that certain dormant evil elements or ultralinks spotted near the Copper Canyon are capable of coming to life and causing great destruction. It is up to the turbo team of Max and Steel to get to the Canyon and destroy the ultralinks before Miles Dredd gets there.
And so begins the endless running adventure that simultaneously combines explosive head to head combat action. Players must race through dangerous ravines, dodge hazardous objects and fight the Dreddnaught robots using super-powers such as Turborang and Turbo Pulse. Along the way, they can pick up in-game currency Research Chips to upgrade their powers as well as the mysterious ultralinks to unlock exclusive game content.
If you'd like to upgrade your character faster, there are optional IAPs, but the game is available for download for the price of free.