Cats! What's not to like about them? Sure, they spend most of their days eating and sleeping, but their cute adorable eyes, soft furry bodies, and expressive purrs do you in every time. And leading mobile game publishers Chillingo and developers Halfpixel Games have capitalized on such a cat love to launch their latest adorable physics based puzzle game called Wake the Cat.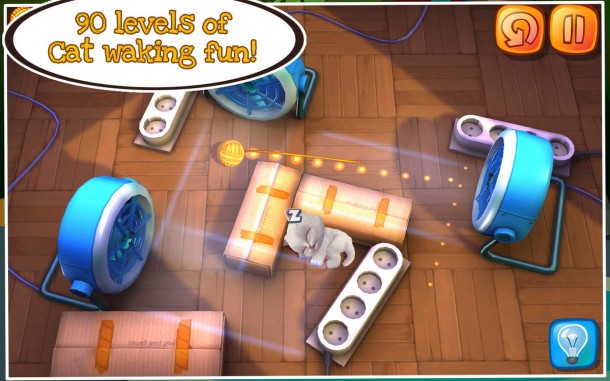 If you haven't already guessed it yet, Wake the Cat is all about waking up a sweet little sleeping cat from its happy slumber in Grandma's house. And the only way to achieve that is to roll the cat's favorite toy, a ball of yarn towards it. Difficulties come by way of train toys, that sometimes act as obstacles and sometimes help in moving the yarn closer to little kitty. Other objects in the room such as slippers, fans, pipes and such also play a role in aiding or hampering the progress of the yarn.
The game has 90 puzzles filled with cute 3D graphics and plenty of stars to catch along the way. All you need to do is aim the yarn and tap objects to maneuver around. Wake the Cat is available in the Play Store for $0.99. Grab it if you love to play a cute and casual puzzle game.