Endless runner fans can take delight in today's double offering from Noodlecake Studios and Gamevil, both of whom have launched their respective games, Small Fry and Kiwi Dash on Android.
Kiwi Dash pits some cute looking kiwis against some naughty cats who have stolen their totem while they were sleeping. If that isn't reason enough to get out your reverie and start running, dodging, dashing, and flying I don't know what is.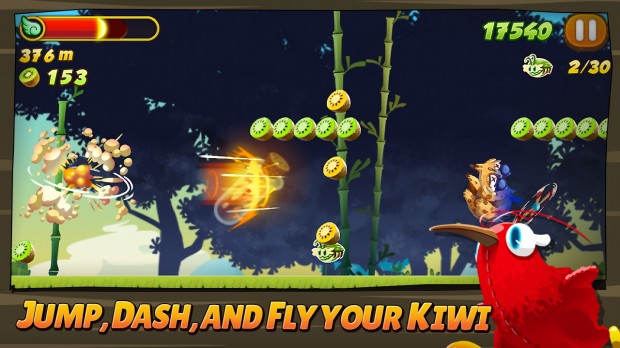 Just like any other endless runner, you have collectibles (kiwi fruits) that will yield new items and powerups to strengthen your gameplay. You can also unlock six different Kiwis, Rooki, Pinki, Wiki, Franki, Miyuki, and Bucki in case you wish to know their names. There is also an exciting and fun fever mode that is triggered when you collect letters while dashing across the platforms.
The endless journey is spiced up with plenty of missions that will happen on a weekly or daily basis giving you a chance to earn bonuses, rewards and other cool stuff. And if its fame and glory you are seeking, just connect and challenge your Facebook friends for top scores. Gamevil are also promising to add new characters, content, and events regularly into the game on a longer timeline.
If you wish to spend your casual free time pretending to be a kiwi and chasing cats, grab Kiwi Dash for free by hitting the download link below.