Bloons TD, of the most popular tower defense games series, has recently been making the transition from browser based gaming to the mobile android market. First it was Bloons TD 5 and now the latest of the series to pop into Google Play is Bloons TD Battles where you are pitted against an opponent in a balloon popping showdown.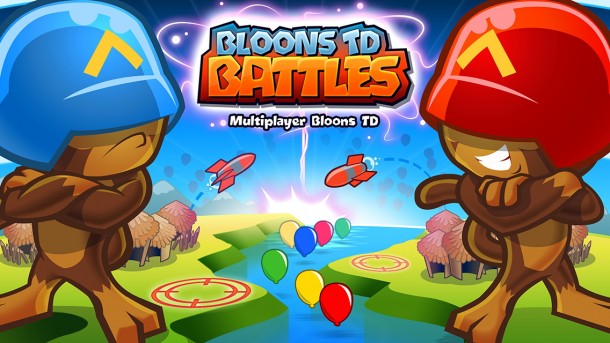 Even better is that Ninja Kiwi has brought loads of brand new features for the head to head battle aspect in Bloons TD Battles. These include 10 new fields of play, 19 new monkey towers and two exciting modes of play as well as exciting multiplayer related power boosts.
The two modes of play that are suited for head to head battle are assault and defense mode. Assault mode you need to balance your income by building up your own tower defenses but also, in a new twist, controlling your enemy's bloons and sending more his way. Defense mode is the more traditional route of play where you and your opponent play normal Bloons Tower Defense style gameplay and the last one standing wins.
In addition to all the new core Bloons TD features, Bloods TD Battles is a multiplayer game and it wouldn't be so without some good customization features. You can customize your bloons you send over to have a personalized touch to it to make your victory that much sweeter. I can already see that Bloons TD Battles is going to be a smashing, or should I say popping, success and with it being free expect all your friends to be picking it up for some balloon popping competition.