Want to put 4D hypercubes within a 3-dimensional world and test your puzzle solving skills? Lexan Software have just the game for you. Its called Tesseric and its just landed on the Play Store for the price of Free.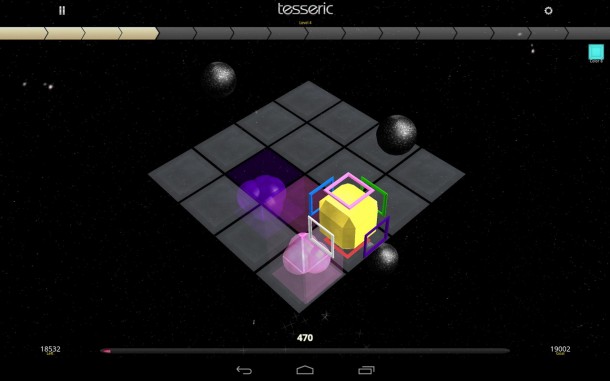 Tesseric takes its inspiration from games like Tetris and SameGame, and requires players to roll a 4 dimensional cube or tesseric around a 3D platform and match it with certain glowing orbs that will appear at random spots within the platform. As the tesseric rolls across the platform it changes colors, its side rings giving an indication as to the color it will change to.
The challenge in the game is that the orbs will stay alive only for a few minutes and if you don't match it soon enough, they will turn into stone. Stones however can be destroyed by eating glowing orbs that appear next to them. Adding to its difficulty is the fact that the matching of orbs must be done within a few moves. Another interesting element to the game is the hotspot button that lets you rotate the platform by swiping across the hotspot.
Tesseric also features a unique "Go For The Record" mode where players can set their own target and beat their own game to get on the Player Charts. If you are ready for the Tesseric challenge, you can get it now on the Play Store.